APTA DC Fall Chapter Meeting
November 8, 2022 @ 7:00 pm

-

9:30 pm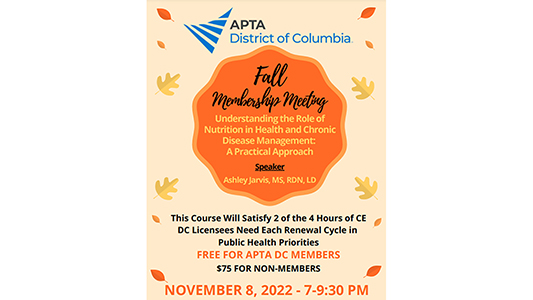 Understanding the Role of Nutrition in Health and Chronic Disease Management: A Practical Approach
7:00 – 7:30 pm – Chapter Meeting
7:30 – 9:30 pm – Understanding the Role of Nutrition in Health and Chronic Disease Management: A Practical Approach
Speaker – Ashley Jarvis
THIS SESSION ADDRESSES #2 ON THE LIST OF THE DC DEPT. OF HEALTH PUBLIC HEALTH PRIORITIES
DESCRIPTION
In todays diet culture it is hard to know what's healthy and what's not. It often seems like nutrition experts are constantly changing their recommendations and rarely express consensus. Every other week there is a new book or social influencer touting a new diet that will result in weight loss, optimal health, and longevity. Trying to keep up will leave your head spinning. This presentation will provide clarity around diet and health, and provide practitioners with recommendations and resources to better inform patient care and practice.
OBJECTIVES
At the conclusion of this presentation, a participant should be able to:
• Describe the role of nutrition in prevention and treatment of chronic diseases, with an emphasis on obesity.
• Understand the complexity of weight management and obesity.
• Describe the components of an anti-inflammatory diet.
• Consider the socio-ecological model in health when working with patients to change behaviors.
• Access nutrition resources for further education and patients.