Reach100 is a nationwide call to membership for PT and PTA students to demonstrate their commitment to APTA membership.
When your program participates in the challenge, programs can earn a certificate of accomplishment, an electronic web button, and will be featured prominently on a banner displayed at national conferences.
Enter By April 30, 2020**
APTADC has a Student Special Interest Group (SSIG) and all student members are automatically members. One of the goals of the group is to provide more opportunities for students of both programs to interact with each other and develop a professional network both as students and as future clinicians. In addition, APTADC has a Core Ambassador who is the primary link between the APTA Student Assembly Board of Directors and PT and PTA students in each state.
The purpose of the SSIG is to provide a means for student physical therapists and student physical therapist assistants in a geographic region to meet, confer, and become more involved in their state's official professional chapter of the APTA. 
Having the SSIG in D.C. will increase student involvement with the APTA at both the national and state level, providing an advantage to students in the area who are interested in developing a professional network, optimizing their communication skills, strengthening their knowledge base, as well as refining their interest in specialty fields of practice. Besides providing a professional advantage, the SSIG will hold fun events for students, including social events such as fundraising competitions between schools, dances, district meetings, educational events, legislative events, and student outreach.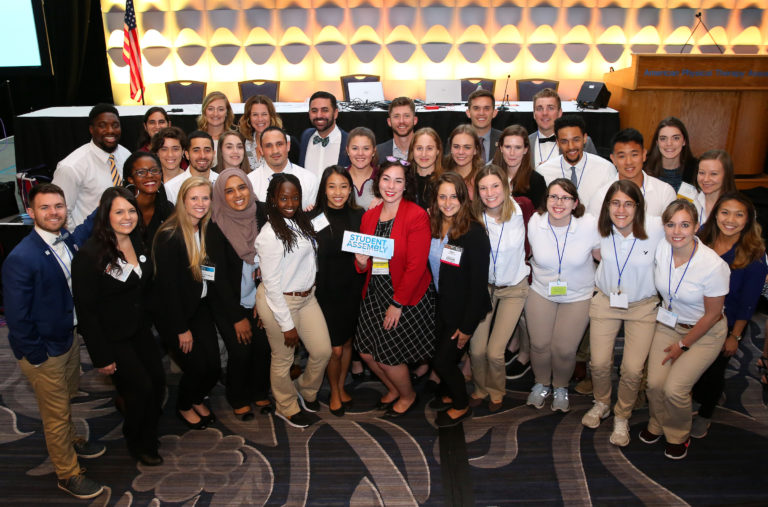 APTA is seeking student volunteers to serve as ushers at the 2020 APTA House of Delegates in Phoenix, Arizona, June 1-3, 2020.
As an usher, you will have the opportunity to see how the physical therapy profession governs itself and sets professional policies. You'll get a first-hand look at APTA's House of Delegates, a policymaking body of the association, and have the opportunity to learn from dedicated and experienced physical therapists as they set the professional standards for the coming year.
If you are a student enrolled in a physical therapy or physical therapist assistant program and an APTA member, please review the responsibilities and eligibility requirements before submitting an application online. The deadline to apply is Monday, March 30, 2020. If you have any questions please email nationalgovernance@apta.org.