Virtual group fitness class for Sibley Club Memory clients
2nd Saturday of each month from 11AM to 12PM
These fitness sessions are led by PTs affiliated with HEART. 
Want to learn more or get involved? Sign up here!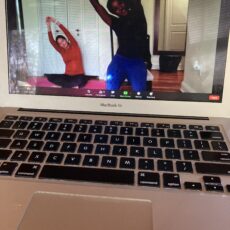 What:
Saturdays for Seniors is a monthly fitness session led by a licensed physical therapist (PT) to focus on various aspects of physical health. These hour-long sessions will take place at 11AM via virtual platform (Zoom). The PT will make every attempt to modify movements to minimize risk of injury. 
Programming Overview:
Participants can ask questions in the chat box, and the last 10 minutes of each class will feature an "Ask A PT" segment. Because this is a group fitness class and not a formal physical therapy session, the physical therapists will not be providing specific medical advice. The PTs recommend that participants consult with a physician if there are any medical related questions. Participants are welcome to schedule a PT visit with any of the PTs that lead a session after consultation with their physician.
Each session will start with stretching. Most activities can be done either sitting or standing near a chair. The PTs ask that participants keep a glass of water nearby to stay hydrated.
When:
 2nd Saturday of each month from 11AM to 12PM
Previous classes:  
 October 10, 2020: "Dance Cardio with Sheena"

November 14, 2020: "Chair Yoga with Valerie"

December 12, 2020: "Bettering Your Balance with Jennifer"
Sponsoring Group:
These fitness sessions will be led by PTs affiliated with HEART (Health Equity & Anti-Racism Team) of the DC Chapter of the American Physical Therapy Association (APTA). IF YOU ARE A PT/PTA AND WOULD LIKE TO VOLUNTEER TO LEAD A SESSION, PLEASE E-MAIL US AT ADVOCACY@APTADC.ORG.
To sign up to attend as a participant, please contact Sharon Sellers by calling (202) 660-6957 or e-mailing her at sseller7@jhmi.edu